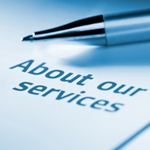 Heating and cooling systems have a way of breaking down when the weather is at its worst; on the coldest day of a frigid winter, or during a sizzling summer heat wave; times when your comfort system must work the hardest, and when you need it most.
Regular check-ups will help to maximize the life expectancy of your system; unfortunately, even the best maintenance won't prevent normal wear and tear.
Please contact us to discuss our service agreements.  Here are some of the highlights:
This preventive maintenance plan is intended to keep your system running at its top efficiency. When you're a member, Chris will come to your home in the spring and again in the fall each year.
During the visit, he will check the system from top to bottom. he will do a 21 point inspection including the voltage, airflow, air pressure, the refrigerant charge and the ductwork, everything!
He'll also clean the coil with the best coil cleaner on the market and put in a drain pan treatment. Also, you won't have to remember to call us because we keep up with the scheduling.
This plan is designed to avoid service call but IF you do have a problem and do need a service call, the fee is waived.
It costs $300 for the whole year. We are able to draft $25 per month on the day you choose or some customer's pay for the entire year upfront and mail us a check for $300.